Open Channel Type UV Sterilizer for Waste Water and Sewage Water Treatment
Product Description
Model NO.: YLC-1000G
Application: Industry
Disinfection Method: Ultraviolet
Material: Stainless Steel Ss304, Ss316
Lifespan of UV Lamp: 9000-12000 Hours
Flow Rate: 0.3--1000 Ton/Hour
System Working Pressure Resistance: (0.6 MPa)6kg/Cm2
Brand of Ballast: Beasun
Specification: CE, SGS, ISO
HS Code: 842121999
Certification: BV, ISO9001, SGS, CE
Voltage: 220V
Bactericidal Efficienc: 98% Kill Total Coliforms
Medium Material: PP (Propene Polymer)
Interface Type: Flange or Thread
Alert System for Lamp: One Set
Raw Water Supplying: Running Water
Trademark: YLD
Origin: Jiangyin, Jiangsu
Channel-type disinfector
The open sewer disinfection technical system adopts the advanced IN-C disinfection technology through the special process design. high-efficiency, high-intensity and long service life UV-C lamp tubes, superior for the ballasts of reliable performance and electric-control system. It adopts the UV-C wave (T254nm) in high-efficiency and broad-spectrum killing of the bacteria and viruses so as to achieve the goal of
Water Purification
and disinfection.
As the first-class high-efficiency UV-C lamp tubes and superior-performance electric control system, the UV disinfection system enjoys power consumption far lower than that of the traditional UV disinfection system. In terms of the system design, designers of our Company have paid full attention to the attenuation of light intensity of UV lamp tubes within the service life and decrease of sterilization rate due to reduction of light intensity caused by sedimentation on the surface of the quartz tubes. Therefore, a large margin has been set when designing the disinfection system. Even when the light intensity of the lamp tubes drops to 60% of the rated value, the whole system can maintain normal operation. It has so far been broadly accepted in more and more fields for its unique and advantageous performances (particularly in disinfection of large water bodies and recycled reclaimed water).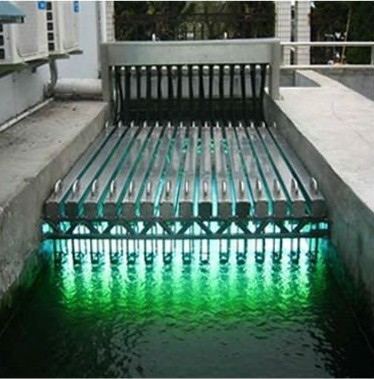 Water quality factors that affect the disinfection efficiency and performance of the sewer UV treatment system
1. Industrial waste water components of the incoming wale
2. The upstream treatment process and the chemical agents used
3. The UV light transmittance of the incoming flow
4. Content of the suspended matters
5. Particle size distribution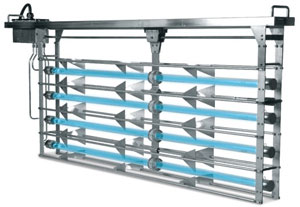 Disinfection system factors that affect the disinfection efficiency and performance of the sewer UV treatment system
1. Hydrodynamic design of the sterilizer (Maximize the use of UV performance to increase the disinfector efficiency and reduce the water pressure loss
2. Lamp tube performance (including the system aging)
3. Arrangement of lamp tubes
4. Scale coefficient of lamp tubes
5. Performance of ballast
Advantages:
- Small to large capacity range, easy to expand capacity by modular design.
- Automatic wiper mechanism eliminating the requirement of manual cleaning of quartz sleeves.
- High efficiency, long lamp life amalgam technology.
- Overall control features such as UV monitoring, remote controlling, system monitoring and water
level regulator.
- Standardized open channel type model equipped with microprocessor control.
- Applicable for medium to large size plants.
- Module with one-touch connector
Design of the concise and lightweight bent frame
1. IP68 or equal grade of sealing protection. High-efficient secure multi-level sealing waterproof design.
2. The module adopts the push-in connectors with the less water resistance so as to guarantee the water incoming before disinfection and water discharge after disinfection.
3. There is little change in water level as to guarantee a stable sterilization effect.
4. It does not need any special tools to disassemble and assemble the disinfection module.
The cleaning ring of the quartz socket tube
Long-term contacting between the quartz socket tubes with the wastewater will surely generate scales, which must be cleaned effectively. The cleaning ring of this product is simple in structure and resistant to aging. The flexible cleaning parts of the cleaning ring can positively adapt to the quartz tubes. Even when the tubes are installed in deviations, the cleaning ring can ensure very good cleaning effect, namely, without abrading or damaging the quartz tubes.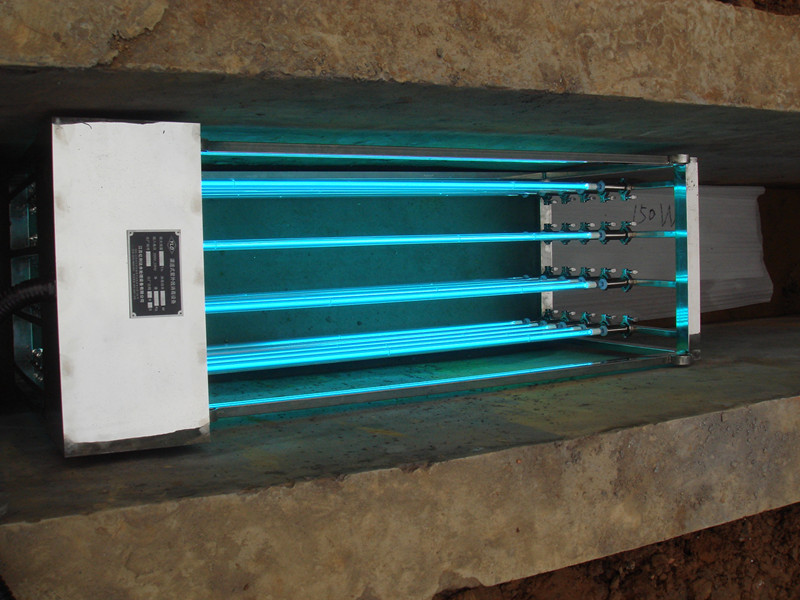 Automatic cleaning device
1. Mechanical self-cleaning device driven by compressed air;
2. The cleaning device and the uv light intensity detector are in linked operation;
3. Having (the optional) manual or automatic working statuses;
4. The low-abrasion and locking-free advantages have laid solid foundation for the UV system to realize the high-efficiency sterilization.
Advanced control system
1. The automatic control center has the remote-control and site-control functions, equipped with the world-class parts and components of superior quality and reliable operating performance.
2. The site control is conducted by the man-machine interface, which consists of the operation recording, fault alarming and maintenance warning functions, easy and simple to operate.
3. The UV intensity output and signal PLC link-control can be monitored online so as to guarantee the UV dosage which can achieve the designed disinfection effect.
Applicable Range
It is applicable to disinfection of water for the large, medium and small sewage treatment plants, landscape water, aquaculture water, reclaimed water recycling and hospitals.
Comparion Of Disinfection Methods:

Factors to be considered

Liquid chlorine disinfection

Chlorine dioxide disinfection

Ozone disinfection

UV disinfection

Time to be processed

30 min

≤30min

5~10min

30~60s

Dosage (mg/l)

2~20

5~10

1~3

30~40

Efficiency of inaction bacteria

High

High

High

High

Efficiency of bacteria and viruses

Lower middle

Middle

High

High

Water quality factors

More easily affected by PH and temperature

More easily affected by PH and temperature

Less affected by PH and temperature

Less affected by PH and temperature

Operation complexity

Simple to middle

Middle

Complicated

Simple to middle

Economical efficiency

Operation cost

Lower middle

Middle

Above the average

Lower middle

Area

Large

Less

Small

Small

Maintenance work

Large

Less

Large

Small

Adverse impact

Safety during transportation

Yes

Yes

No

No

Site security

Very high

Middle

Middle

Smaller

Poisoning against the fishes and large invertebrates

Toxic

Poisonous

No

No

Whether there exists the toxic by product

Yes

Exist in small quantity

Yes

No

Disposal of the cleaning agents

No

No

No

Have

Whether or not to increase the content of the soluble solid

Yes

Yes

No

No

Corrosively

Yes

Yes

Yes

No

High energy consumption

No

No

Yes

Yes
Contact us if you need more details on
UV Sterilizer
. We are ready to answer your questions on packaging, logistics, certification or any other aspects about
Ultraviolet Sterilizer
、
UV Disinfector
. If these products fail to match your need, please contact us and we would like to provide relevant information.
Product Categories : Ultraviolet Sterilizer > Channel-Type Sterilizer