Shallow Sand Filter to Suspended Solids in Cooling Tower
Product Description
Model NO.: YL-SSF-1600 Usage: Environmental Protection Style: Vertical Certification: CE, GS Face Pipe: Carbon Steel.Ss304,Ss316,UPVC Working Pressure: 0.5/1.0/1.6/2.0MPa Solid Remove Rate: 92%--96% Filter Material: Quartz Sand,Carbon Trademark: YLD Origin: Jiangyin, China Type: Bypass Filter Motive Force: Electric power Performance: Water Purifying Filter Vessel Material: Carbon Steel,Stainless Steel Design Presure: 0.6/1.6/2.5MPa Control System: Automatic Control Box,PLC, or Manual Backwash System: Automatic or Manual Water Turbidity Output: <5ntu Specification: to be practical HS Code: 842121999
Shallow Sand Filter
to Suspended Solids in Cooling Tower 
A rapid 
Sand Filter
 is a
Water Treatment
device that uses sand or other grainy media to filterout the solid particles suspended in water. These suspended solids include dirt and other organic matter that cause water to appear cloudy or turbid. Rapid sand filtration is commonly used by municipal water treatment plants to clean surface and ground water intended for drinking water. It is also used to treat sewage and industrial wastewater containing biological contaminants before these waters are discharged to the environment.
Rapid sand filtration takes place in a tank containing one or more layers of grainy media, such as sand, anthracite or hard coal, garnet, magnetite, or other minerals. The total media depth typically ranges from 2-6 feet (about 0.6-1.8 meters). In many systems the incoming water, or influent, enters near the top of the tank and flows downward through the media. The outgoing water, or effluent, leaves through a drainage system called the underdrain that lies underneath the filter media bed.
As the influent travels through the rapid sand filter, many of the water-borne suspended solids become trapped above or within the pores between grains. This straining process is the primary mechanism by which solids are removed from the water. In addition, suspended solids are adsorbed onto the surface of the grains due to intermolecular attractive forces. Other physical, chemical, and biological processes also enhance solids removal during filtration.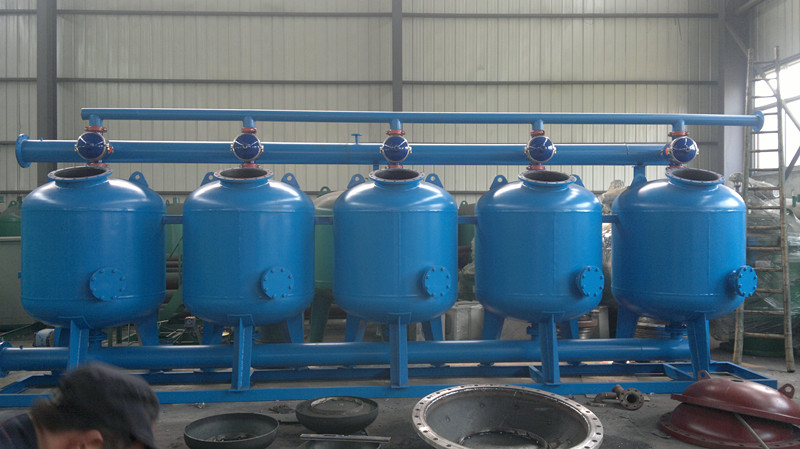 The effectiveness of a rapid sand filter is highly dependent on the characteristics of the influent and the grainy media. Important influent properties include the concentrations, types, and particle charges of the suspended solids in the water. The depth of the media bed and the particle charges, sizes, and shapes of the grains are also crucial.
Smooth round grains crowd closely together and create very small pores. More jagged grains may produce larger pores, but are better at snagging solids as they pass by. Typically, layers of different grains are used to take advantage of multiple removal mechanisms.
Over time, the media bed of a rapid sand filter becomes clogged with accumulated solids. At this point, the filter is cleaned through a process called backwashing. Wash water is pumped upward through the bed to dislodge the solids and rinse them out of the tank. As the wash water is drained, the granular media settle back into their original layers, and the filter is ready to be used again.
Working principle
For the by-pass filtration, the filter is installed in the main circulating pipeline to filter all the circulating water, but a part of the circulating water flows from the main circulating pipeline is filtered, which is a repeated circulating interception step by step to filter the impurities within the system and finally remove the impurities by the necessary backwash out of the system. Installing a by-pass filter in the circulating water system can prevent the terminal pipe of device from sludge blocking and remove the impurities in the system with chemical dosing.
By-pass filtration is used to reduce the turbidity of the water circulation system, exactly, to reduce slime and prevent its deposition in the heat exchanger, so that the effect of agent will be better.
Generally speaking, if your filter is a quartz sand filter, it usually has two main functions:
1. To reduce suspended solids (turbidity). Otherwise, as the system is running, suspended solids increases, which will exacerbate the deposition and other problems.
2. Degreasing. Especially the oily turbid circulation, such as steel rolling and continuous casting, has high oil content and is easy for breeding microorganism and blocking the nozzles.
Technical description of by-pass filter for the industrial circulating water
Flow filter flow is designed according to 5% to 10% of the total circulation volume (the by-pass filter flow of the cooling water is designed by 10 % of the circulation volume and the by-pass filter flow of chilled water is designed by 5% of the circulation volume) and the filtration rate is designed by 20 - 3Smih according to water quality of the system. Specific to corrosive suspended solids of the circulating water system as well as the control, our technical support team has designed a variety of manual/automatic by-pass filtrating equipment in line with customer demand.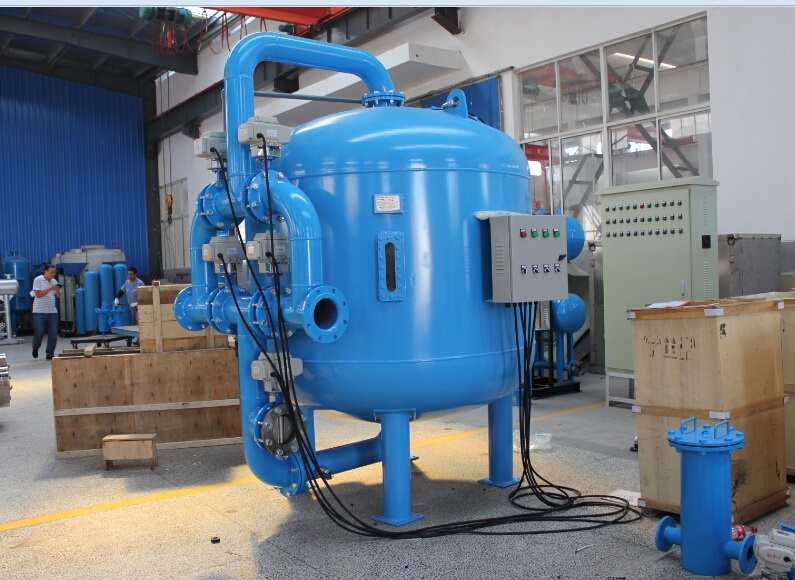 Technical parameters sheet for Shallow Sand Filter(bypass sand filter)
model
Filter diameter
Height
inlet-outlet
filtration area
capacity
mm
mm
mm
m²
m³/hour
YL-SF-500
500
816
40
0.2
6~10
YL-SF-600
600
874
40
0.28
8~14
YL-SF-700
700
900
40
0.38
12~19
YL-SF-800
800
960
DN50
0.50
15-25
YL-SF-1000
1000
1200
DN50
0.79
23-39
YL-SF-1200
1200
1400
DN80
1.13
33-55
YL-SF-1400
1400
1600
DN100
1.54
45-75
YL-SF-1600
1600
1800
DN100
2.01
60-100
YL-SF-1800
1800
1950
DN150
2.54
75-125
YL-SF-2000
2000
2150
DN150
3.14
95-155
YL-SF-2200
2200
2250
DN150
3.80
115-190
YL-SF-2400
2400
2100
DN150
4.52
130-210
YL-SF-2600
2600
2400
DN150
5.30
145-225
YL-SF-2800
2800
2500
DN200
6.15
155-240
YL-SF-3000
3000
2600
DN200
7.00
170-255
YL-SF-3200
3200
2800
DN250
8.15
270-320
The characteristics of the filtration system
1. Manual or automatic control is available;
2. Water distributor is simple, uniform and reliable;
3. Finished water collector has high strength and long service life;
4. Easy to install. Only connect the inlet and outlet to the waste pipe when installing;
5. Less water consumption in backwash: A homogeneous filter is used, so that backwash cycle is extended and the total backwash water volume is greatly reduced;
6. High backwash efficiency: An advanced water collector is used, ensuring efficient backwash effect.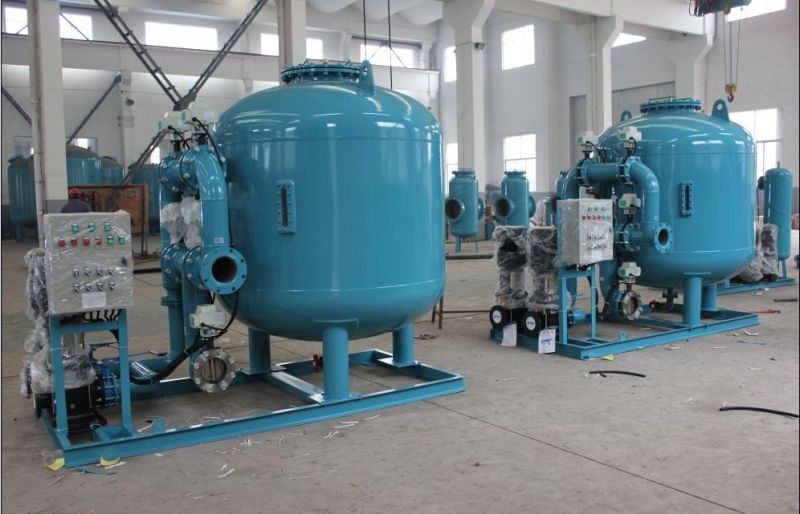 Contact us if you need more details on Sand Filter. We are ready to answer your questions on packaging, logistics, certification or any other aspects about
Automatic Sand Filter
、Shallow Sand Filter. If these products fail to match your need, please contact us and we would like to provide relevant information.
Product Categories : Sand Filter > Media Sand Filter