Vertical 200gpm UV Sterilization System for Swimming Pool Disinfection
Product Description
Model NO.: YLC-1200 Application: Industry Disinfection Method: Ultraviolet Material: Ss304/316/316L Flow Rate/Capacity: 50m3/H UV Lamp Life: 9000 Hours UVC Sensor: Customized Quality Authentication: ISO/SGS/BV Specification: CE, SGS HS Code: 842121999 Certification: BV, ISO9001, SGS, CE Voltage: 220V Name: UV Water Sterilization System Bactericidal Efficienc: 99.99% Inlet and Outlet: Dn125mm/5 Inch Equipment Pressure: 0.6MPa Control Mode: Manual Cleaning/Automatic/No Cleaning Trademark: YLD Origin: Jiangyin, Jiangsu Features:
* Quick and simple installation.
* LED indicator to signal failure of each UV lamp.
* Average Lamp Life 9000 burning hours.
* UV dosage 30,000 m.w. sec/cm2.
* Polished stainless steel UV Reactor.
* Most natural way to protect your water safely.
* Easy lamp replacement and maintenance.
* Either end can be used as inlet / outlet.
* High quality quartz lamp & sleeve used to achieve desired result.
* Able to destroy 99.9%+ micro-organism under Standard Water Quality and flow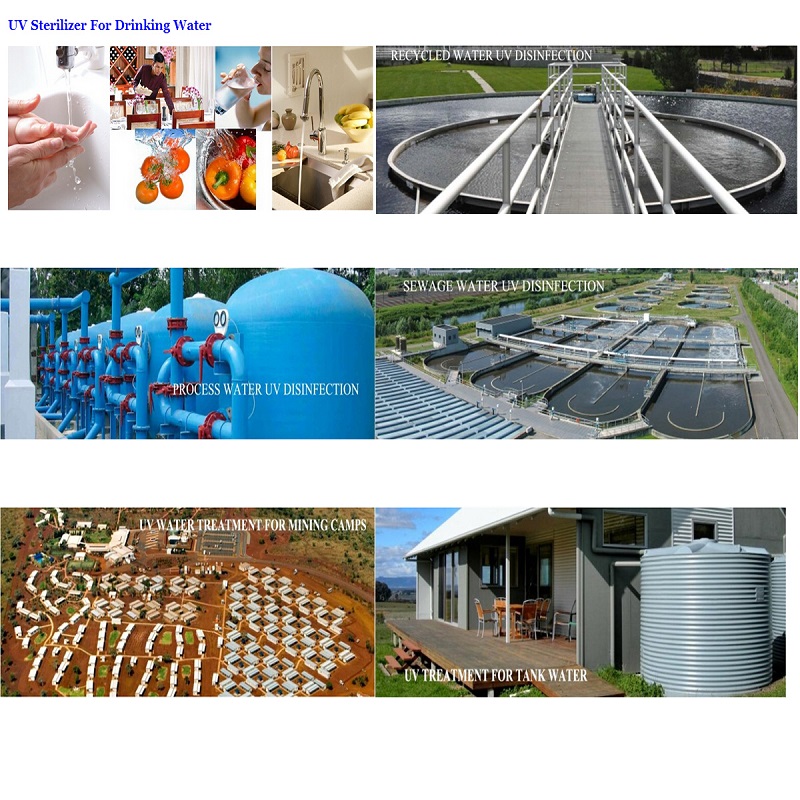 Our Ultraviolet Water Disinfection and UV Water Sanitizer Applications include:
Home and Commercial uses for water disinfection
Well
Water Purification
, sanitizing and disinfection
Surface Water disinfection
Municipal Water sanitizing
Food Service and Food Processing water purification uses
Hospitals, Healthcare and Clinics
Aquaculture
Pharmaceuticals
Hotels and Resorts, Campgrounds
Water Bottlers and Beverage Bottlers
Laboratories
Marine and Aquarium uses
Agricultural and Farming water disinfection
and more...
Principle of Operation
UV water disinfection system design has been carefully conceived to provide adequate germicidal dosage throughout the disinfection chamber. The dosage, as it applies to UV disinfection, is a function of time and the intensity of UV radiation to which the water is exposed. Exposure time is related to the flow rate, the higher the flow rate, the lower the exposure time or the lower the flow rate, the higher the exposure time. The UV intensity is the amount of energy, per unit time, emitted by germicidal lamp. The Dosage is the product of UV intensity and the exposure time.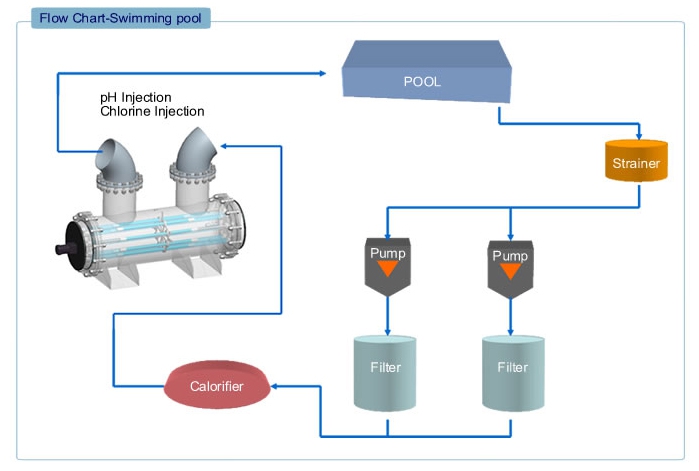 Limitation of Use
The UV water disinfection system NOT intended for the treatment of water that has an obvious contamination or intentional source, such as raw sewage, nor is the unit intended to convert wastewater to microbiologically safe drinking water.
Water Quality (in)
Water quality plays a major role in the transmission of germicidal UV rays. It is recommended that the water does not exceed following maximum concentration levels
Maximum Concentration Levels (Very Important)
Iron≤ 0.3ppm(0.3mg/L)
Hardness≤ 7gpg(120mg/L)
Turbidity≤ 1NTU
Manganese≤ 0.05ppm(0.05mg/L)
Tannins≤ 0.1ppm(0.3mg/L)
UV Transmittance≥ 750‰
Effectively treating water with higher concentration levels than listed above can be accomplished, but may require added measures to improve water quality to treatable levels. If, for any reason, it is believed the UV transmission is not satisfactory, contact the factory.
UV wavelength (nm)
DOSAGE is the product of intensity & time
Dosage=intensity*time=micro watt/cm2*time=microwatt-seconds per square centimeter
(μ W-s/cm2)
Note: 1000μ W-s/cm2=1mj/cm2(milli-joule/cm2)
As a general guideline, the following are some typical UV transmission rates (UVT)
City water supplies850-980‰
De-ionized or
Reverse Osmosis
water950-980‰
Surface waters(lakes, rivers, etc)700-900‰
Ground water(wells)900-950‰
Other liquids10-990‰
model
Processing capacity (Ton/Hour)
power (W)
 inlet and outlet
(inch)
working pressure (Kg/cm 2 )
malfunction alert for UV lamp
reactor dimension (cm) L×W×H
dimension of panel(cm)
anchor bolt  (cm)
overall weight (Kg)
YLCn-005
0.3
16
1/2"
6
matched
30×6×11
 
 
5
YLCn-008
1
25
1/2"
6
matched
47×6.3×11
 
 
10
YLCn-050
2
40
1"
6
matched
100×9×20
Φ8.9×25
(diameter×length)
69×4×Φ1
25
YLCn-150
6
80
1+1/4"
6
matched
100×11×23
69×4×Φ1
30
YLCn-200
8
120
1+1/2"
6
matched
100×15.9×30
Φ8.9×45
(diameter×length)
69×7×Φ1
35
YLCn-300
12
160
2"
6
matched
100×15.9×32
69×7×Φ1
40
YLC-050
2
40
DN25/1"
6
matched
100×8.9×30
25×30×12
(L×H×w)
60×4×Φ1
45
YLC-150
6
80
DN32/1 1/4 "
6
matched
100×10.8×30
60×4×Φ1
50
YLC-200
8
120
DN40/1 1/2 "
6
matched
100×15.9×40
60×7×Φ1
60
YLC-300
12
160
DN50/2"
6
matched
100×15.9×40
60×7×Φ1
70
YLC-360
15
200
DN65/2 1/2"
6
matched
100×15.9×40
50×78×25
(L×H×W)
60×7×Φ1
120
YLC-500
20
240
DN65/2 1/2"
6
matched
100×21.9×50
60×11×Φ1.2
130
YLC-600
25
280
DN80/3"
6
matched
100×21.9×50
60×11×Φ1.2
140
YLC-700
30
320
DN100/4"
6
matched
100×21.9×50
60×11×Φ1.2
150
YLC-1000
40
360
DN100/4"
6
matched
100×21.9×50
60×11×Φ1.2
160
YLC-1200
50
400
DN125/5"
6
matched
100×21.9×50
60×11×Φ1.2
180
YLC-1500
60
420
DN150/6"
6
matched
170×27.3×57
120×16×Φ1.4
210
YLC-2000
80
560
DN150/6"
6
matched
170×27.3×57
120×16×Φ1.4
220
YLC-2500
100
700
DN150/6"
6
matched
170×27.3×57
60×128×30
(W×H×T)
 
120×16×Φ1.4
275
YLC-3000
125
840
DN150/6"
6
matched
173×27.3×57
120×16×Φ1.4
300
YLC-4000
150
1120
DN200/8"
6
matched
173×32.5×65
120×20×Φ1.6
325
YLC-5000
200
1400
DN200/8"
6
matched
173×37.7×72
120×22×Φ1.6
350
YLC-7000
300
2100
DN250/10"
6
matched
175×42.6×80
120×24×Φ2.0
400
YLC-10K
400
2520
DN250/10"
6
matched
176×52.9×95
60×150×40
(W×H×T)
120×28×Φ2.2
475
YLC-15K
600
3080
DN300/12"
6
matched
176×78×110
120×32×Φ2.4
600
YLC-20K
800
3920
DN350/14"
6
matched
confirmed
 confirmed
confirmed
confirmed
YLC-25K
1000
4760
DN350/14"
6
matched
confirmed
confirmed
confirmed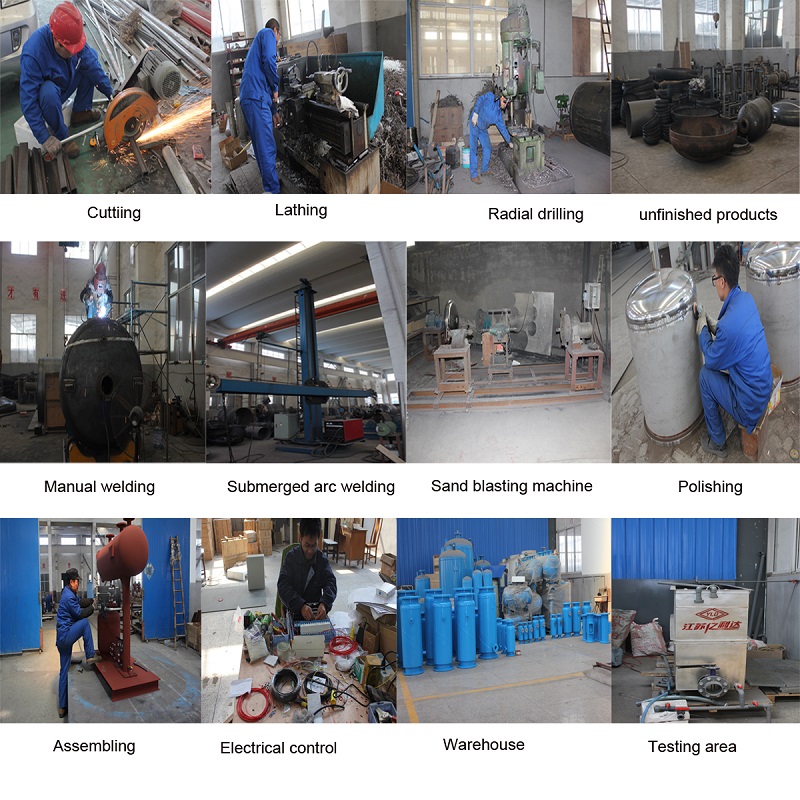 Frequently Asked Questions About Ultraviolet (UV) Purification
1. What is UV? 
Ultraviolet (UV) light is at the invisible, violet end of the light spectrum. Even though we can't see UV light, we are exposed to UV rays from all light sources, including the sun.
2. How does ultraviolet light purify water? 
UV-C rays penetrate the cells of harmful bacteria and viruses in our drinking water, destroying their ability to reproduce. Without this ability, these organisms die and no longer pose a health threat. It is a simple but very effective process, with the system destroying 99.99% of harmful microorganisms.
3. Why not use chlorine instead? 
Chlorine changes the taste and odor of water. Chlorinating also produces harmful by-products called Trihalomethanes (THMs) which are linked to incidence of cancer.
4. Does a UV system use a lot of energy? 
No, the UV unit will use about the same amount of energy as a 60 watt light bulb. It is a cost effective, natural way to increase water quality.
5. Why do UV purifiers require sediment pre-filtration? 
UV systems require pre-filtration to maintain effectiveness as sediment and other contaminants in the water can create a "shadow" which prevents the UV rays from reaching and disinfecting the harmful microorganisms.
6. How often does the UV light bulb (lamp) need to be replaced? 
It is essential that you change your UV lamp annually. The ability of the lamp to emit UV light decreases over one year in operation. Remember - UV light is invisible! Even though the lamp is still glowing after one year, there might not be enough UV light reaching your water to be effective.
7. How often do your need to replace the sleeve? 
The sleeve doesn't need to be replaced unless it is broken, but it will need to be cleaned several times a year in order to keep the bulb effective in delivering high water quality. Contact us if you need more details on
UV Sterilizer
. We are ready to answer your questions on packaging, logistics, certification or any other aspects about
Ultraviolet Sterilizer
、
UV Disinfector
. If these products fail to match your need, please contact us and we would like to provide relevant information.
Product Categories : Ultraviolet Sterilizer > UV Water Sterilizer