UV Sterilizer Toc Remover Water Disinfection System
Product Description
Model NO.: TOC-300 Application: Industry Disinfection Method: Ultraviolet Material: Stainless Steel Ss304, Ss316 Lifespan of UV Lamp: 9000-12000 Hours Flow Rate: 0.3--1000 Ton/Hour System Working Pressure Resistance: (0.6 Mpa)6kg/Cm2 Brand of Ballast: Beasun Specification: CE, SGS HS Code: 842121999 Certification: BV, ISO9001, SGS, CE Voltage: 220V Bactericidal Efficiency: 98% Kill Total Coliforms Medium Material: PP (Propene Polymer) Interface Type: Flange or Thread Alert System for Lamp: One Set Raw Water Supplying: Running Water Trademark: YLD Origin: Jiangyin, Jiangsu
UV Sterilizer
Toc Remover Water Disinfection System
 TOC Sterilizers
Application
1.Food processing industry, including juices, milk, drinks, beer, practical oil  and canned food.
2.Electronic industry. 
3.Hospitals, various laboratory and high levels of pathogenic body water disinfection.
4.Households building, residential, office buildings, hotels, restaurants, water factories.
5.Purification and disinfection of shellfish, fish cleaning and disinfection
6.Military camp, field water supply system
7.Urban wastewater disinfection. 
8.Swimming pool, other recreational water disinfection  
9.Thermal power, nuclear power plant  industrial, central air conditioning system cooling water. 
10.Biological, chemical and pharmaceutical, cosmetics for the production of cooling water. 
11.Sea water, fresh water breeding, aquaculture  water
12.Agricultural water disinfection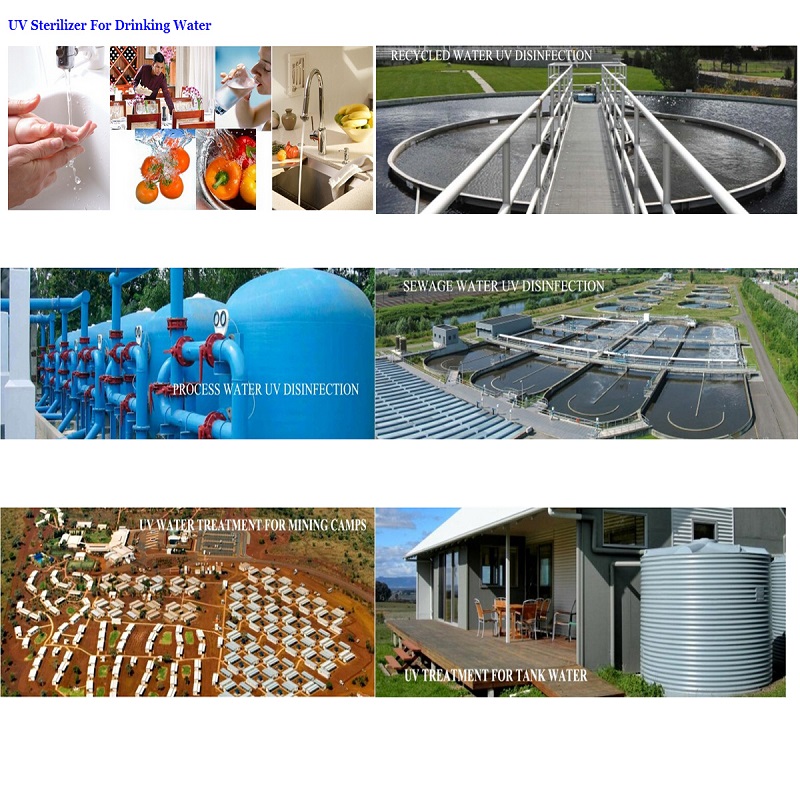 UV specification
Product application
Ultraviolet light treatment is a widely recognized and proven method of disinfection of water and has several advantage over other disinfection methods such as chlorination, ozonation, etc.UV light does not add anything to the water ,such as ,undesirable color ,odor , taste , or flavor ,nor does it generate harmful byproducts. It adds only energy in the UV radiation. Also, UV disinfection requires only a fraction of the contact times required by other disinfection methods. It is fast, efficient, effective, economical and environmentally-friendly. 
Principle of Operation
UV water disinfection system design has been carefully conceived to provide adequate germicidal dosage throughout the disinfection chamber. The dosage, as it applies to UV disinfection, is a function of time and the intensity of UV radiation to which the water is exposed. Exposure time is related to the flow rate, the higher the flow rate, the lower the exposure time or the lower the flow rate, the higher the exposure time. The UV intensity is the amount of energy, per unit time, emitted by germicidal lamp. The Dosage is the product of UV intensity and the exposure time.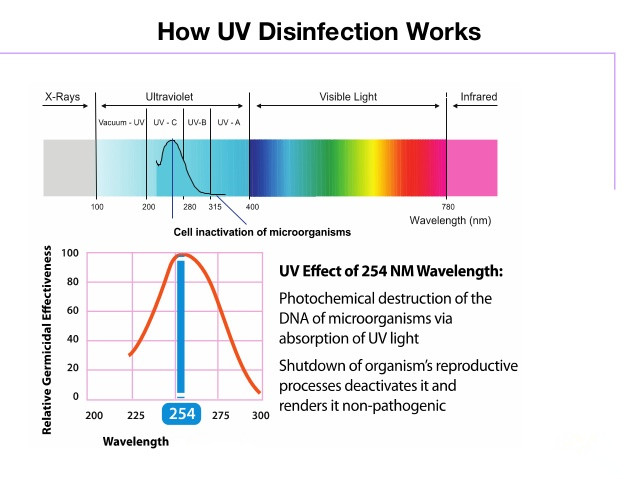 Limitation of Use
The UV water disinfection system NOT intended for the treatment of water that has an obvious contamination or intentional source, such as raw sewage, nor is the unit intended to convert wastewater to microbiologically safe drinking water. 
Water Quality (in)
Water quality plays a major role in the transmission of germicidal UV rays. It is recommended that the water does not exceed following maximum concentration levels
Maximum Concentration Levels (Very Important)
Iron≤0.3ppm(0.3mg/L)
Hardness≤7gpg(120mg/L)
Turbidity≤1NTU
Manganese≤0.05ppm(0.05mg/L)
Tannins≤0.1ppm(0.3mg/L)
UV Transmittance≥750‰ 
Effectively treating water with higher concentration levels than listed above can be accomplished, but may require added measures to improve water quality to treatable levels. If, for any reason, it is believed the UV transmission is not satisfactory, contact the factory.
UV wavelength (nm) 
                 DOSAGE is the product of intensity & time
dosage=intensity*time=micro watt/cm2*time=microwatt-seconds per square centimeter
                              (μW-s/cm2)
               Note:1000μW-s/cm2=1mj/cm2(milli-joule/cm2) 
As a general guideline, the following are some typical UV transmission rates (UVT)
City water supplies850-980‰
De-ionized or
Reverse Osmosis
water950-980‰
Surface waters(lakes, rivers, etc)700-900‰
Ground water(wells)900-950‰
Other liquids10-990‰

 
 
Model
 
 
Rated flow
 
Alarming indicators
 
 
Power
Diameters of the
incoming and
outcoming water pipes
 
Pressure bearing
of the equipment
 
Electric control cabinet
TOC-300
0.3
Have
40W
DN15
0.6
No
TOC-500
0.5
Have
80W
DN15
0.6
No
TOC-1000
1
Have
120W
DN20
0.6
Have
TOC-3000
3
Have
160W
DN25
0.6
Have
TOC-6000
6
Have
300W
DN40
0.6
Have
TOC-10000
10
Have
525W
DN50
0.6
Have
TOC-12000
12
Have
675W
DN50
0.6
Have
TOC-15000
15
Have
750W
DN50
0.6
Have
TOC-20000
20
Have
900W
DN50
0.6
Have
TOC-30000
30
Have
1200W
DN80
0.6
Have
TOC-40000
40
Have
1500W
DN80
0.6
Have
TOC-50000
50
Have
1800W
DN100
0.6
Have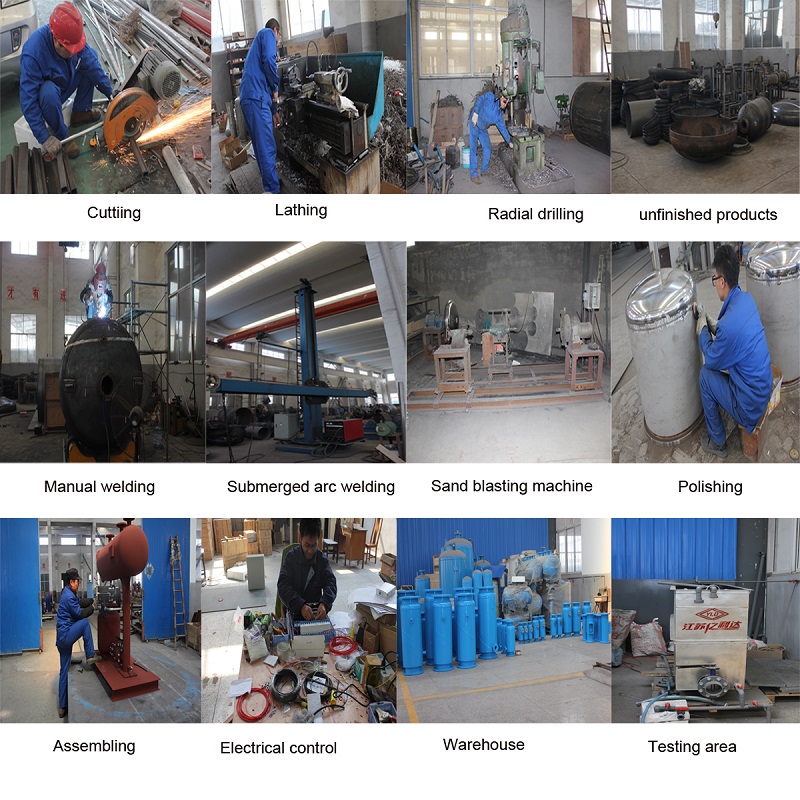 Contact us if you need more details on UV Sterilizer. We are ready to answer your questions on packaging, logistics, certification or any other aspects about
Ultraviolet Sterilizer
、
UV Disinfector
. If these products fail to match your need, please contact us and we would like to provide relevant information.
Product Categories : Ultraviolet Sterilizer > UV Water Sterilizer