Germicidal UV Water Disinfection of Domestic Water Supplies
Product Description
Model NO.: YLC-500 Material: Stainless Steel Ss304, Ss316 Lifespan of UV Lamp: 9000-12000 Hours Flow Rate: 20m3/H Working Pressure: (0.6 MPa Brand of Ballast: Domestic Brand Specification: CE, SGS, ISO HS Code: 8421219990 Bactericidal Efficienc: 98% Kill Total Coliforms Inlet and Outlet: Dn65mm Interface Type: Flange Chamber Size: 930*159*37mm Raw Water: Drinking Water/Waste Water/Underground Water Trademark: YLD Origin: Jiangyin, Jiangsu germicidal UV Water disinfection of domestic water supplies
What is Ultraviolet Light Disinfection?
Ultraviolet disinfection is a means of killing or rendering harmless microorganisms in a dedicated environment. These microorganisms can range from bacteria and viruses to algae and protozoa. UV disinfection is used in air and
Water Purification
, sewage treatment protection of food and beverages, and many other disinfection and sterilization applications. A major advantage of UV treatment is that it is capable of disinfecting water faster than chlorine without cumbersome retention tanks and harmful chemicals. UV treatment systems are also extremely cost efficient!
Ultraviolet disinfection systems are mysterious to many people - how can "light" kill bacteria? But the truth is it can. Ultraviolet (UV) technology has been around for 50 years, and its effectiveness has been well documented both scientifically and commercially. It is nature's own disinfection/purification method. With consumers becoming more concerned about chlorine and other chemical contamination of drinking water, more dealers are prescribing the ultraviolet solution suitable for both small flow residential applications as well as large flow commercial projects.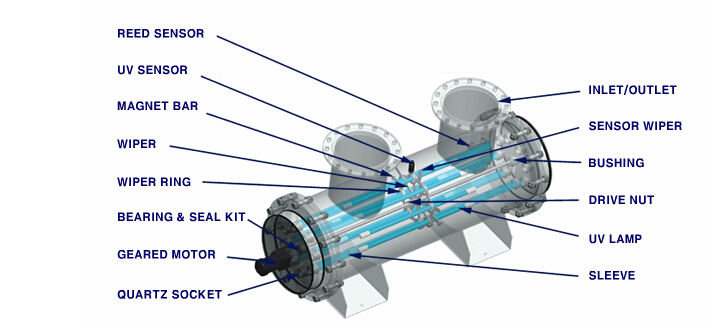 What are the Advantages of UV Disinfection?
Environmentally friendly, no dangerous chemicals to handle or store, no problems of overdosing.  
Universally accepted disinfection system for potable and non-potable water systems.  
Low initial capital cost as well as reduced operating expenses when compared with similar technologies such as ozone, chlorine, etc.  
Immediate treatment process, no need for holding tanks, long retention times, etc.  
Extremely economical, hundreds of gallons may be treated for each penny of operating cost.  
Low power consumption.  
No chemicals added to the water supply - no by-products (i.e. chlorine + organics = trihalomethanes).   
Safe to use.  
No removal of beneficial minerals.  
No change in taste, odor, pH or conductivity nor the general chemistry of the water.  
Automatic operation without special attention or measurement, operator friendly.  
Simplicity and ease of maintenance, TWT Deposit Control System prevents scale formation of quartz sleeve, annual lamp replacement, no moving parts to wear out.  
No handling of toxic chemicals, no need for specialized storage requirements, no OHSA requirements.  
Easy installation, only two water connections and a power connection.  
More effective against viruses than chlorine.  
Compatible with all other water processes (i.e., RO, filtration, ion exchange, etc.).
How does UV Disinfection Work?
Ultraviolet is one energy region of the electromagnetic spectrum, which lies between the x-ray region and the visible region. UV itself lies in the ranges of 200 nanometers (nm) to 390 nanometers (nm). Optimum UV germicidal action occurs at 260 nm.
Since natural germicidal UV from the sun is screened out by the earth's atmosphere, we must look to alternative means of producing UV light. This is accomplished through the conversion of electrical energy in a low pressure mercury vapor "hard glass" quartz lamp. Electrons flow through the ionized mercury vapor between the electrodes of the lamp, which then creates UV light.
As UV light penetrates through the cell wall and cytoplasmic membrane, it causes a molecular rearrangement of the microorganism's DNA, which prevents it from reproducing. If the cell cannot reproduce, it is considered dead.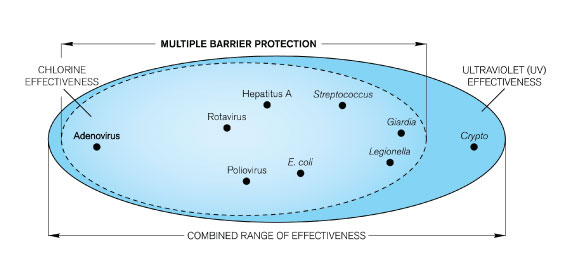 What Contaminants Do UV Sterilizers Remove?  
There are no micro-organisms known to be resistant to UV, unlike chlorination. UV is known to be highly effective against bacteria, viruses, algae, molds and yeasts, and disease causing oocysts like cryptosporidium and giardia. In practice, bacteria and viruses are the cause of most major waterborne pathogenic diseases. Of these enteric viruses, hepatitis virus and Legionella pneumophila have been shown to survive for considerable periods in the presence of chlorine, but are readily eliminated by UV treatment. For most microorganisms, the removal efficiency of UV for microbiological contaminants such as bacteria and virus generally exceeds 99.99%.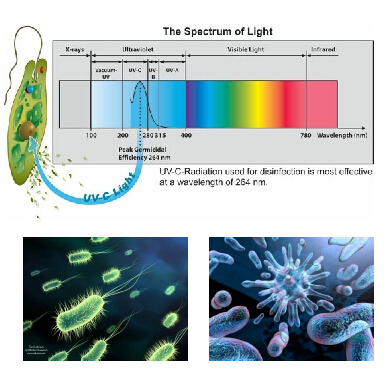 CONVENTIONAL METHODS OF WATER TREATING
 
CHLORINE
OZONE
ULTRA VIOLET
Capital cost
Lowest
High
Low
Ease of installation
Good
Poor
Excellent
Ease of Maintenance
Good
Poor
Excellent
Cost of Maintenance
Medium
High
Lowest
Operating Cost
Low
High
Low
Frequency Of Maintenance
Frequent
Continuous
V. Infrequent
Control System
Poor
Good
Excellent
Virucidal Effect
Good
Poor
Good
Toxic Chemical
Yes
Yes
No
Residual Effect Problem with
Yes
Yes
No
Hazards
High
Yes
Low to none
Contact Time
30 - 60 minutes
High
1 - 5seconds
Disinfection Performance
Leaves some pathogens
Kills all microbes
Kills all microbes
Effect on Water
Organochlorine compounds, Taste & pH changes
Unknown
None
The Ultra violet dose required for destruction is about the same for each virus, while higher dose of chlorine & ozone needed.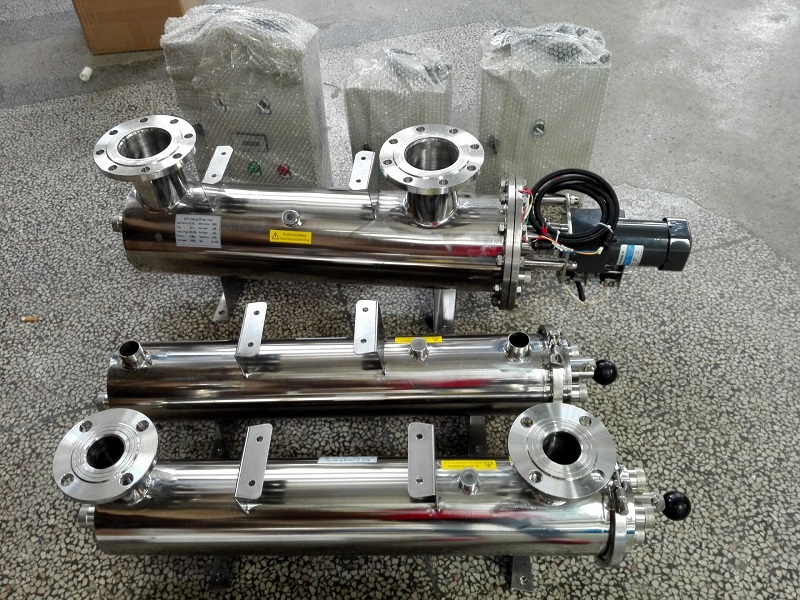 Technical parameters:

model

capacity

Power

inlet-outlet

reactor

panel

Anchor

G weight

 

m³/hour

watt

mm

L×W×H

cm

screw

Kg

YLCn-005

0.3

16

1/2″

30×6×11

without

without

5

YLCn-008

1

25

1/2″

47×6.3×11

without

without

10

YLCn-050

2

40

1″

100×9×20

Φ8.9×25
(d×L)

69×4×Φ1

25

YLCn-150

6

80

1+1/4″

100×11×23

 

69×4×Φ1

30

YLCn-200

8

120

1+1/2″

100×15.9×30

Φ8.9×45
(d×L)

69×7×Φ1

35

YLCn-300

12

160

2″

100×15.9×32

 

69×7×Φ1

40

YLC-050

2

40

DN25/1″

100×8.9×30

25×30×12
(W×H×D)

60×4×Φ1

45

YLC-150

6

80

DN32/11/4″

100×10.8×30

 

60×4×Φ1

50

YLC-200

8

120

DN40/11/2″

100×15.9×40

 

60×7×Φ1

60

YLC-300

12

160

DN50/2″

100×15.9×40

 

60×7×Φ1

70

YLC-360

15

200

DN65/21/2″

100×15.9×40

 

60×7×Φ1

120

YLC-500

20

240

DN65/21/2″

100×21.9×50

 

60×11×Φ1.2

130

YLC-600

25

280

DN80/3″

100×21.9×50

 

60×11×Φ1.2

140

YLC-700

30

320

DN100/4″

100×21.9×50

 

60×11×Φ1.2

150

YLC-1000

40

360

DN100/4″

100×21.9×50

 

60×11×Φ1.2

160

YLC-1200

50

400

DN125/5″

100×21.9×50

 

60×11×Φ1.2

180

YLC-1500

60

420

DN150/6″

170×27.3×57

 

120×16×Φ1.4

210

YLC-2000

80

560

DN150/6″

170×27.3×57

 

120×16×Φ1.4

220

YLC-2500

100

700

DN150/6″

170×27.3×57

60×128×30
(W×H×D)

120×16×Φ1.4

275

YLC-3000

125

840

DN150/6″

170×27.3×57

 

120×16×Φ1.4

300

YLC-4000

150

1120

DN200/8″

173×32.5×65

 

120×20×Φ1.6

325

YLC-5000

200

1400

DN200/8″

173×37.7×72

 

120×22×Φ1.6

350

YLC-7000

300

2100

DN250/10″

175×42.6×80

 

120×24×Φ2.0

400

YLC-10K

400

2520

DN250/10″

176×52.9×95

60×150×40
(W×H×D)

120×22×Φ2.2

475

YLC-15K

600

3080

DN300/12″

176×78×110

 

120×32×Φ2.4

600

YLC-20K

800

3920

DN350/14″

Designated

Designated

Designated

Designated

YLC-25K

1000

4760

DN350/14″

Designated

Designated

Designated

Designated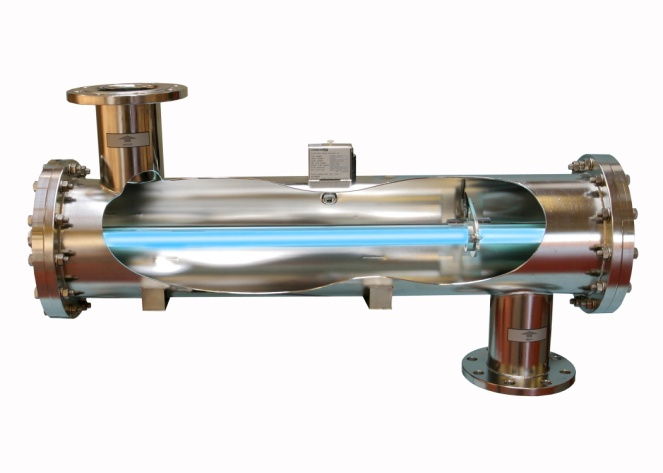 PRODUCT FLOW RANGE : 100 LPH TO 5, 00,000 LPH APPLICATIONS :- 
Drinking
Water Treatment
RO Plants
Mineral water plants
Sewage water recycling
Effluent recycling
Municipal water supply
Zero liquid discharge systems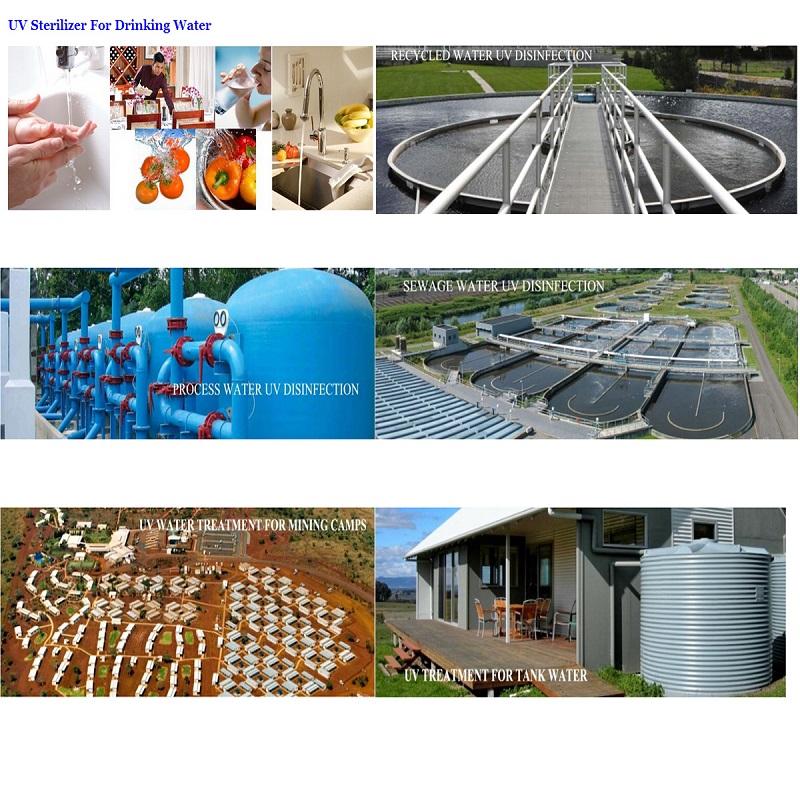 Frequently Asked Questions About Ultraviolet (UV) Purification
1. What is UV? 
Ultraviolet (UV) light is at the invisible, violet end of the light spectrum. Even though  
we can't see UV light, we are exposed to UV rays from all light sources, including the sun. 
2. How does ultraviolet light purify water? 
UV-C rays penetrate the cells of harmful bacteria and viruses in our drinking water,  
destroying their ability to reproduce. Without this ability, these organisms die and no  
longer pose a health threat. It is a simple but very effective process, with the system  
destroying 99.99% of harmful microorganisms. 
3. Why not use chlorine instead? 
Chlorine changes the taste and odor of water. Chlorinating also produces harmful by- 
products called Trihalomethanes (THMs) which are linked to incidence of cancer. 
4. Does a UV system use a lot of energy? 
No, the UV unit will use about the same amount of energy as a 60 watt light bulb. It is a  
cost effective, natural way to increase water quality. 
5. Why do UV purifiers require sediment pre-filtration? 
UV systems require pre-filtration to maintain effectiveness as sediment and other  
contaminants in the water can create a "shadow" which prevents the UV rays from reaching  
and disinfecting the harmful microorganisms. 
6. How often does the UV light bulb (lamp) need to be replaced? 
It is essential that you change your UV lamp annually. The ability of the lamp to emit UV  
light decreases over one year in operation. Remember - UV light is invisible! Even though  
the lamp is still glowing after one year, there might not be enough UV light reaching your  
water to be effective. 
7. How often do your need to replace the sleeve? 
The sleeve doesn't need to be replaced unless it is broken, but it will need to be cleaned  
several times a year in order to keep the bulb effective in delivering high water quality. Contact us if you need more details on
UV Sterilizer
. We are ready to answer your questions on packaging, logistics, certification or any other aspects about
Ultraviolet Sterilizer
、
UV Disinfector
. If these products fail to match your need, please contact us and we would like to provide relevant information.
Product Categories : Ultraviolet Sterilizer > UV Water Sterilizer