Ylc-200 Immersion Ultraviolet Sterilizer Water Purifier Without Secondary Pollution
Product Description
Model NO.: YLC-200 Material: Stainless Steel Ss304, Ss316 Lifespan of UV Lamp: 9000-12000 Hours Flow Rate: 0.3--1000 Ton/Hour System Working Pressure Resistance: (0.6 Mpa)6kg/Cm2 Brand of Ballast: Beasun Specification: CE, SGS HS Code: 842121999 Bactericidal Efficienc: 98% Kill Total Coliforms Medium Material: PP (Propene Polymer) Interface Type: Flange or Thread Alert System for Lamp: One Set Raw Water Supplying: Running Water Trademark: YLD Origin: Jiangyin, Jiangsu YLC-200
Ultraviolet Sterilizer
Water Purifier
Without Secondary Pollution
Ultraviolet Sterilizer Specifications
Detailed Product Description
Ultraviolet Sterilizers Efficiency
1. High bacterial efficiency
2. Low cost.
Ultraviolet Sterilizer Principle of Operation
UV water disinfection system design has been carefully conceived to provide adequate germicidal dosage throughout the disinfection chamber. The dosage, as it applies to UV disinfection, is a function of time and the intensity of UV radiation to which the water is exposed. Exposure time is related to the flow rate, the higher the flow rate, the lower the exposure time or the lower the flow rate, the higher the exposure time. The UV intensity is the amount of energy, per unit time, emitted by germicidal lamp. The Dosage is the product of UV intensity and the exposure time.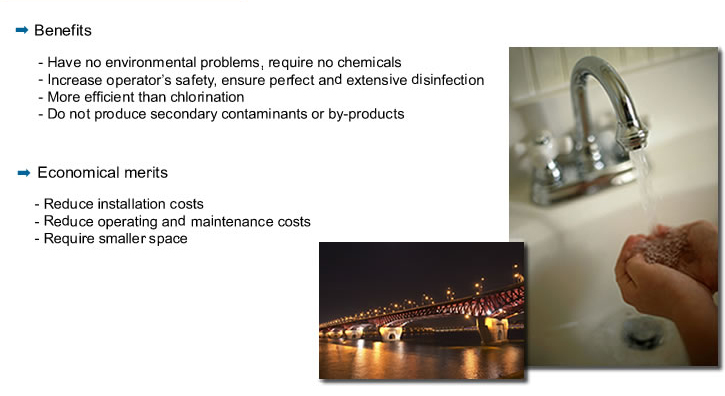 Limitation of Use
The UV water disinfection system NOT intended for the treatment of water that has an obvious contamination or intentional source, such as raw sewage, nor is the unit intended to convert wastewater to microbiologically safe drinking water.
Water Quality (in)
Water quality plays a major role in the transmission of germicidal UV rays. It is recommended that the water does not exceed following maximum concentration levels
Maximum Concentration Levels (Very Important)
Iron≤ 0.3ppm(0.3mg/L)
Hardness≤ 7gpg(120mg/L)
Turbidity≤ 1NTU
Manganese≤ 0.05ppm(0.05mg/L)
Tannins≤ 0.1ppm(0.3mg/L)
UV Transmittance≥ 750‰
Effectively treating water with higher concentration levels than listed above can be accomplished, but may require added measures to improve water quality to treatable levels. If, for any reason, it is believed the UV transmission is not satisfactory, contact the factory.
UV wavelength (nm)
DOSAGE is the product of intensity & time
Dosage=intensity*time=micro watt/cm2*time=microwatt-seconds per square centimeter
(μ W-s/cm2)
Note: 1000μ W-s/cm2=1mj/cm2(milli-joule/cm2)
As a general guideline, the following are some typical UV transmission rates (UVT)
City water supplies850-980‰
De-ionized or
Reverse Osmosis
water950-980‰
Surface waters(lakes, rivers, etc)700-900‰
Ground water(wells)900